Sevaram Narayanasamy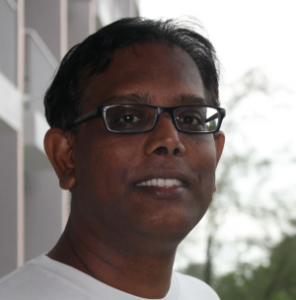 Sevaram Narayanasamy (usually called Ram for short) was born in Penang, Malaysia in 1963, he has lived most of his life in Seremban, early development of his artistic skills saw him venturing into drawing and architectural depiction instead of main line fine arts, which lacked opportunity in the eary years of 1980-1990's.

While living abroad in Toronto Canada he took art lessons in drawing and painting, encouraged by his teacher Ms.Barbara Fosteka he participated in his first art competition unexpectedly winning an award for his fine water colour piece called "Sweater on the floor", upon returning to Malaysia 1992 he was employed as an architectural illustrator for a well known architectural practice "BEP Akitek Sdn Bhd" working closely under the notable Architect the late "Dato Kington Loo".
Mr.Sevaram has more than 10 of experienced in the field of pre visualization and multimedia. Today he ventures into the fine arts lured and inspired by modern masters such as Andrew Wyeth, David Leffel, and Robert Bateman and Richard Schmid .
Showing all 3 results