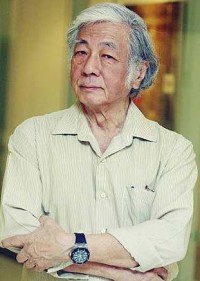 Tew Nai Tong, most renowned for being a distinctive figurative artist, was born in his hometown in Klang in 1936. He attended the Peng Hwa Chinese School when he was seven years old. He was 18 when he chose to pursue the path of his dream of becoming an artist. He went to Singapore and attennd the Nanyang Academy of me Arts (NAFA) for two years graduated in 1958 at the age 22.
During his early stage at NAFA while focusing on sketching, watercolors and landscape painting, Nai Tong with the rest fo his contemporaries, became part of the watercolor movement of Malaysia. Tew Nai Tong started to learn the of Western portrait paintings, color theories and forms with the guidance of renowned artists such as Cheng Wen Hsi and Cheong Soo Pieng.
In 1964, he held his first solo exhibition in Kuala Lumpur and made high recognitions. During this period, he only focused on water colour due to financial reasons. Driven by his desire to cultivate his knowledge of art, Nai Tong took advantage of the opportunity to continue his education in Paris. Aside from his admiration for the artistic ambiance of Paris, it was also customary as well as essential for NAFA Alumni to further their study in arts there.
He attended Ecole Nationale Superieure Des Beaux-Arts de Paris for 2 years, where he obtained the skills to paint using oil colour, enabling him to establish a solid foundation for his future advancement. During his stay, he plunged into the realm of arts and culture in France and across Europe, visiting art galleries and museums, seeking inspiration and fresh ideas to unfold. Paris brought Tew Nai Tong a newly discovered inspiration which he efficiently used through his experimental phases on forms, compositions and colors. giving him a unique style of his own. The results are fascinating, beautiful Oriental appeal mixed with Parisian elegance and infused with dreamy watercolor on canvas and joyous geometrical abstracts collage oil paintings of the rural areas, local culture and landscapes.
During Nai Tong's numerous visits in Bali, Indonesia (1996-2006) he also took time to revisit Paris (1999-2002). furthering his research as well as gaining new inspirations. which largely contributed in creating his own unique style and identity as an artist. Through the years, his dedication. passion and undying love for art made him become an excellent observer and researcher. Captivated by its eternal beauty and graceful feats.
Tew Nai Tong has always adored the female form and has always been fascinated by it ever since he learned how to draw. Regarding the fact that painting nude female has been part of the western arts and culture for thousands of years. his ability to render nude female figures have been truly one of a kind.
His visit in Bali. Thailand and other parts of Malaysia. where most of the traders were hardworking, dedicated women during that time. has added an everlasting impression to Tew that have inspired him to paint them. Most of his work depicts Asian women. for he always find them very hardworking. always in control. and the one who provides the uttermost love and care for their family.
With his art being described as the embodiment of the new Nanyang style. Tew Nai Tong may also be one of the few (2nd generation) individuals that carry the old Nanyang art style. Even when he already had the proper knowledge, skills and training background in arts. he never ceases to appreciate the simple ways of life where he came from with incomparable admiration.
Being one of the highly recognized artists in the region. indeed Malaysia is truly proud to have Tew Nai Tong as one of their own, and it has been strengthened even more in 2009 when he was recognized with the prestigious Grand Prize Asia Art Award in Seoul, South Korea. He has greatly contributed in introducing the rich Malaysian arts and culture into the international scene. Some of his works have been auctioned at Christie's and Sotheby's.
Tew Nai Tong's significant "Squinty eyes' expression through all his artwork depicts the importance of having a good family relationship that creates a peaceful and harmonious environment. The "Squinty eyes' see the importance of hard work without grievance, and always lives life to the fullest with love and happiness. and knows no politics or arguable social issues whatsoever. His distinctive figurative paintings which reflect the serene. joyous and average way of life in rural areas along with the richness of their culture. is his unique way of treasuring his era, and for future generations to relive.